ATSUSHI KOYAMA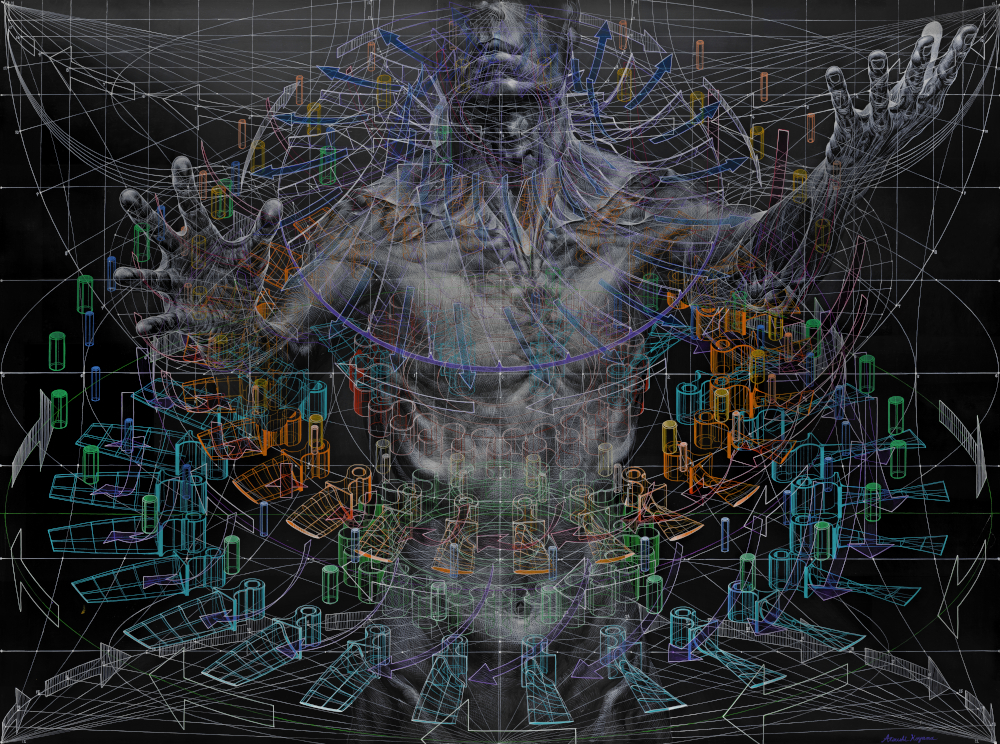 ---
Works
Oil Paintings

Untitled, oil on canvas, 73x97cm, 2020

Parity Violation 4, oil on canvas, 130.3x97cm, 2019

Parity Violation 3, oil on canvas, 97x130.3cm, 2019

Parity violation 2, oil on canvas, 90x130x3cm, 2018

Parity violation 1, oil on canvas, 130x90x3cm, 2018

Undefined 24, 2016, oil on canvas, 130x97cm

Undefined 23, 2016, oil on canvas, 130x97cm

Undefined 22, 2015, oil on canvas, 91x73cm

Undefined 21, 2015, oil on canvas, 91x73cm

Undefined 20, 2015, oil on canvas, 130x97cm

Oil Paintings 2015-2014

Undefined 19, 2015, oil on canvas, 130x194cm

Undefined 17, 2015, oil on canvas, 130x160cm

Undefined 16, 2015, oil on canvas, 130x97cm

Undefined 13, 2015, oil on canvas, 130x97cm

Undefined 12, 2014, oil on canvas, 91x72.7cm

Undefined 10, 2014, oil on canvas, 91x72.7cm

Undefined 9, 2014, oil on canvas, 130x194cm

Undefined 7, 2014, oil on canvas, 97x130.3cm

Oil Paintings 2013

Oil Paintings 2011-2010

MACHINE, 2011, oil on canvas, 130.3x194.0cm

MACHINE, 2011, oil on canvas, 130.3x194.0cm

Tomoko 2011, oil on canvas, 91.0x72.7cm

MACHINE, 2011, oil on canvas, 130.3x97.0cm

trace, 2010, oil on canvas, 72.7x72.7cm (x16)

TATRA148, 2010, oil on canvas, 130.3x97.0cm

IVECO UNIC 75PC, 2010, oil on canvas, 145.5x112.0cm

Teppei, 2010, oil on canvas, 145.5x112.0.3cm

Oil Paintings 2010

FutureDays, 2010, Oil on canvas, 145.5x112.0.3cm

Tomoko 2010, oil on canvas, 91.0x72.7cm

Teppei 2010, oil on canvas, 91.0x72.7cm

MACHINE, 2010, Oil on canvas, 162.0x130.3cm

FutureDays01, 2010, oil on canvas, 91.0x91.0cm

FutureDays02, 2010, oil on canvas, 91.0x91.0cm

FutureDays01, 2010, oil on canvas, 91.0x91.0cm

carburetor, 2010, oil on canvas, 72.7x60.6cm
---
---
---
---
Atsushi Koyama
1978

Born in Tokyo, Japan

2002

B.F.A., Tama Art University, Tokyo, Japan

2008

B.Sc. Mathematics, Tokyo University of Science, Tokyo, Japan
Award
2020

Grand Prize, "Creation & Culture 2020", ORIGINALMIND INC. Nagano, Japan
Solo exhibition
2019

"The Reverse Rotation", Frantic Gallery, Tokyo, Japan

2019

"Live", Contact Tokyo, Tokyo, Japan

2015

"Corpus Reassembled." Frantic Gallery, Tokyo, Japan

2015

"MAN MACHINE" Art Stage Singapore Art Fair 2015, Singapore

2012

"MAN MACHINE" Tokyo Wonder Site, Tokyo, Japan

2011

"MAN MACHINE" Makii Masaru Fine Arts, Tokyo, Japan
Group exhibition
2016

"SCOPE New York" New York, USA

2015

"YIA Art Fair, Paris" Paris, France
"POSITIONS Berlin Art Fair" Berlin, Germany

2014

"New Sensibilities in Sculpture and Painting" Yeo Workshop Gillman Barracks, Singapore

2012

"Ach,so!?" Artist House FRISE, Hamburg, Germany
"KOIME Drawings" Makii Masaru Fine Arts, Tokyo, Japan

2011

"Ach,so!?" Makii Masaru Fine Arts, Tokyo, Japan
"Tokyo Wonder Wall" Museum of Contemporary Art Tokyo, Tokyo, Japan
"People are strange" Makii Masaru Fine Arts, Tokyo, Japan

2010

"ART AWARD NEXT #1" Tokyo Art Club, Tokyo, Japan
---
I don't transfer what I have caught and understood in my head onto a picture plane, but just draw things because I cannot digest them. I want to see the vestige of what I selected and how I drew through the working process. Thus, my artworks focus on my activity of creation.
I confirm a thing which I cannot understand just by looking at it through use of pictures and additional lines. During that process, I found that what has emerged in front of me forms an artwork. This means, I think, that there was something which had to be output from my head. I don't need to output things if I'm satisfied with them. So, something that urged me to draw was there. I wondered whether or not this is the nature of creativity then.
The purpose of drawing is to confirm what I selected and ignored as well as in what way I depicted a thing through the output as a result of trial and error on picture plane myself; it is not to reproduce a thing on picture plane as medium to express completed image.
Whatever the motif is, I consider art to be the state of communicating with a picture plane to understand the motif and confirm my understanding of it. My interest is not to read concepts of artists' works, but is in the vestige of how they worked and what they did.